Acute Care Nurse Practitioner Programs in California:
An acute care nurse practitioner (ACNP) is one of several tracks available when pursuing an advanced practice registered nurse (APRN) career. An ACNP's scope of practice includes caring for patients who are critically ill and those with chronic but rapidly changing conditions.
Acute care nurse practitioners are certified and licensed to care for patients in critical care facilities (for example, urgent care or hospital emergency rooms) and other settings.
Our Methodology: We use a data-driven methodology to rank the best acute care nurse practitioner programs, making it easier for you to find a program that works for you. Our methodology is based on metrics that we believe matter most to students, including academic quality, affordability, reputation, and program offerings.
Keep reading to learn more about acute care nurse practitioner programs, or go straight to our list of the best acute care NP programs in California.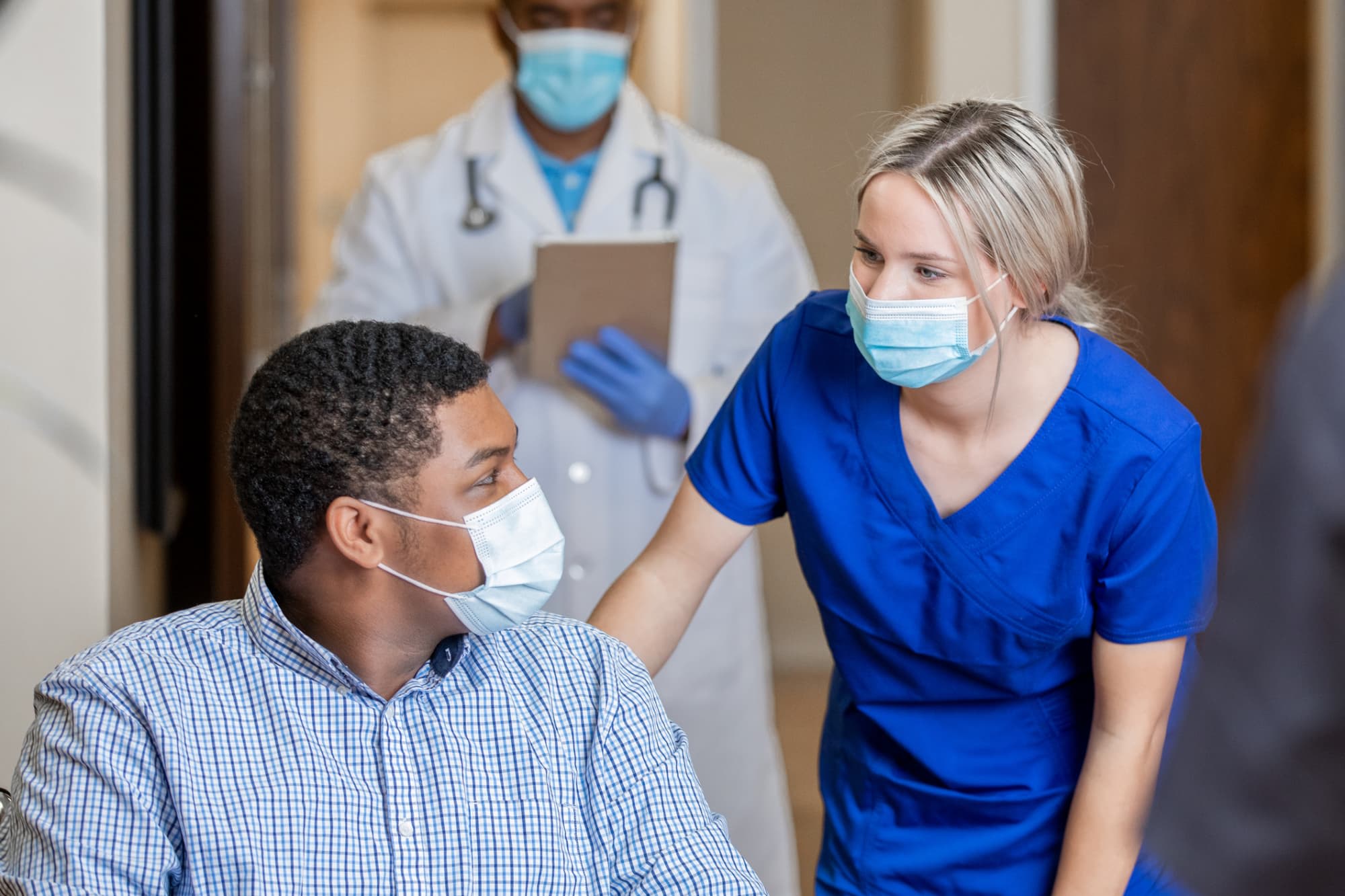 What Can You Do as an Acute Care Nurse Practitioner?
Nurse practitioners in California provide advanced clinical care, such as ordering tests, making diagnoses, and prescribing medications (whether independently or in collaboration with a physician). Certified ACNPs receive extensive training, enabling them to provide care for patients with acute illnesses and those with critical conditions. ACNPs can perform life-saving procedures such as inserting central venous lines and chest tubes, performing lumbar punctures, and intubating patients.
ACNPs have the critical skills required to work in emergency care settings like surgical units, emergency departments, and outpatient urgent care. An ACNP must choose between adult-gerontology and pediatric specializations, but some schools offer more options.
What to Look For in a California Acute Care NP Program
There are several factors to consider when searching for nurse practitioner programs in California. Prospective students should examine factors such as nursing program accreditation, admission requirements, tuition and other costs, and the type of delivery format (online, on campus, or hybrid).
Distance learners should find out whether clinical practicums can be completed near their residence, or if travel is required to complete clinical assignments.
1. 

Admission Requirements


Most NP programs require a bachelor's degree in nursing and an active, unencumbered RN license.

2. 

Program Requirements


A student's decision to enroll in an NP program is often influenced by the program's curriculum and delivery format. Students must decide which type of program best meets their work and family/personal life needs.

3. 

Clinical Experience


Distance-learning students should review the program to learn about on-campus or in-person requirements, such as clinicals. Some schools allow students to set up clinicals in their home state. It's also important to find out whether the institution assists with finding clinical placements.

4. 

Accreditation


Once you've determined that you meet the admission requirements, accreditation is perhaps the most important factor to consider when selecting a nurse practitioner program in California.

An accredited school equates to a higher quality education and provides knowledge areas needed to pass the NP certification exam.

5. 

Program Length


Consideration of the number of credits, semesters, and months required to finish a graduate program is an important factor for many students.

This can particularly apply to working students, and those with a limited budget. The longer the program, and the higher the number of credits required, the greater the overall expense.

6. 

School NCLEX Pass Rate


The program's nursing board pass rate is a good indicator of the overall quality of a school's nursing program. Although the National Council Licensure Examination (NCLEX) for RN licensure is taken after a nurse has graduated with an undergraduate degree, graduate students can use the NCLEX pass rate to gauge a school's ability to prepare students for nursing practice.

7.   

School Graduation Rate


Graduation rates also allow prospective students to determine what percentage of students finish the program and graduate. It can be used to figure out your likelihood of successfully completing a program.
Featured Online MSN Programs
Applying to an Acute Care NP Program in California
Once you have selected a nurse practitioner program in California, it's time to submit an application. Although there are some general requirements, each school is different, so it's important to review the application requirements as an initial screening process.
Admission Materials

A bachelor of science in nursing from an accredited program, or experience as an RN with a regionally accredited bachelor's degree in another discipline; a college-level statistics course; personal statement; current resume; SAT or ACT scores; admission interview; current, unencumbered RN license

GPA Requirement

Other Requirements

1-2 years RN experience in a hospital acute care setting
Why Is Acute Care NP Program Accreditation Important?
Accreditation involves the review and approval of a program's faculty, curriculum, and more. Most nursing programs are accredited by the Commission on Collegiate Nursing Education or the Accreditation Commission for Education in Nursing. Accreditation of an acute care NP program is important because:
Program accreditation ensures a quality program.
Graduation from an accredited program is required to sit for NP certification exams.
Students completing accredited programs have a higher rate of passing licensure and certification exams.
Credits earned from unaccredited institutions may not be transferable.
Certain types of financial aid may not be offered to students attending unaccredited nursing programs.
Students graduating from accredited programs qualify for higher job prospects.
Paying for an Acute Care NP Program in California
Financial issues usually weigh heavily on a student's decision to continue their education. Graduate school often involves considerable costs, but the payoff can be well worth it.
Many factors can influence a nurse's ability to pay for nurse practitioner programs in California. Examples include:
Tuition rates (often private schools cost more) and other program costs
Whether distance-learning programs charge out-of state tuition
Your income and availability to work while continuing your education
Whether financial support is available (such as from a parent, guardian, or relative)
When seeking a graduate degree, a significant part of the planning process includes planning your finances. However, financial aid for nurses is available. Nursing grants and scholarships, work-study programs, and private and federal student loans can make all the difference when paying for your nursing education.
Learn More About the Top Acute Care NP Programs in California
Common Questions About Acute Care NP Programs
---
How much do acute care nurse practitioners make in California?
According to theU.S. Bureau of Labor Statistics, the average salary for nurse practitioners in California is $151,830 per year. This figure can vary depending on your NP specialty, type of institution, and area of practice.
For example, an acute care pediatric nurse practitioner working in urgent care can often make more base pay than an NP working in a gerontology private practice. But depending on the size of the private practice, there may be more room for negotiating bonuses, profit sharing, and other earning perks.
Are nurse practitioners in high demand in California?
Yes, nurse practitioners in California are in high demand. In fact, the job outlook for nurse practitioners nationally is 52% growth from the year 2020 to 2030.
How long does it take to earn an acute care NP degree in California?
It can take between 2-6 years to complete a nurse practitioner program in California, depending on several factors, like whether you already have a nursing undergraduate degree and if you plan to attend part time or full time.
Is California a restricted state for nurse practitioners?
Yes, California is a restricted state, meaning that nurse practitioners must be supervised by a medical doctor. Physicians are only allowed to supervise four nurse practitioners authorized to provide drugs or devices.