An acute care nurse practitioner (ACNP) is a registered nurse (RN) who holds a master's degree or higher from an accredited institution. ACNPs provide care for patients with critical illness or acute conditions.
The online ACNP track offers affordability, scheduling flexibility, and the opportunity to remain employed while attending classes virtually. Additionally, the ease of accessibility to instructors can facilitate stronger relationships and interactions.
We use a data-driven methodology to rank the best online acute care nurse practitioner programs, making it easier for you to find a program that works for you. Our methodology is based on metrics that we believe matter most to students, including academic quality, affordability, reputation, and program offerings.
Keep reading to learn more about online acute care NP programs, or go straight to our list of the best online acute care NP programs.
Featured Online MSN Programs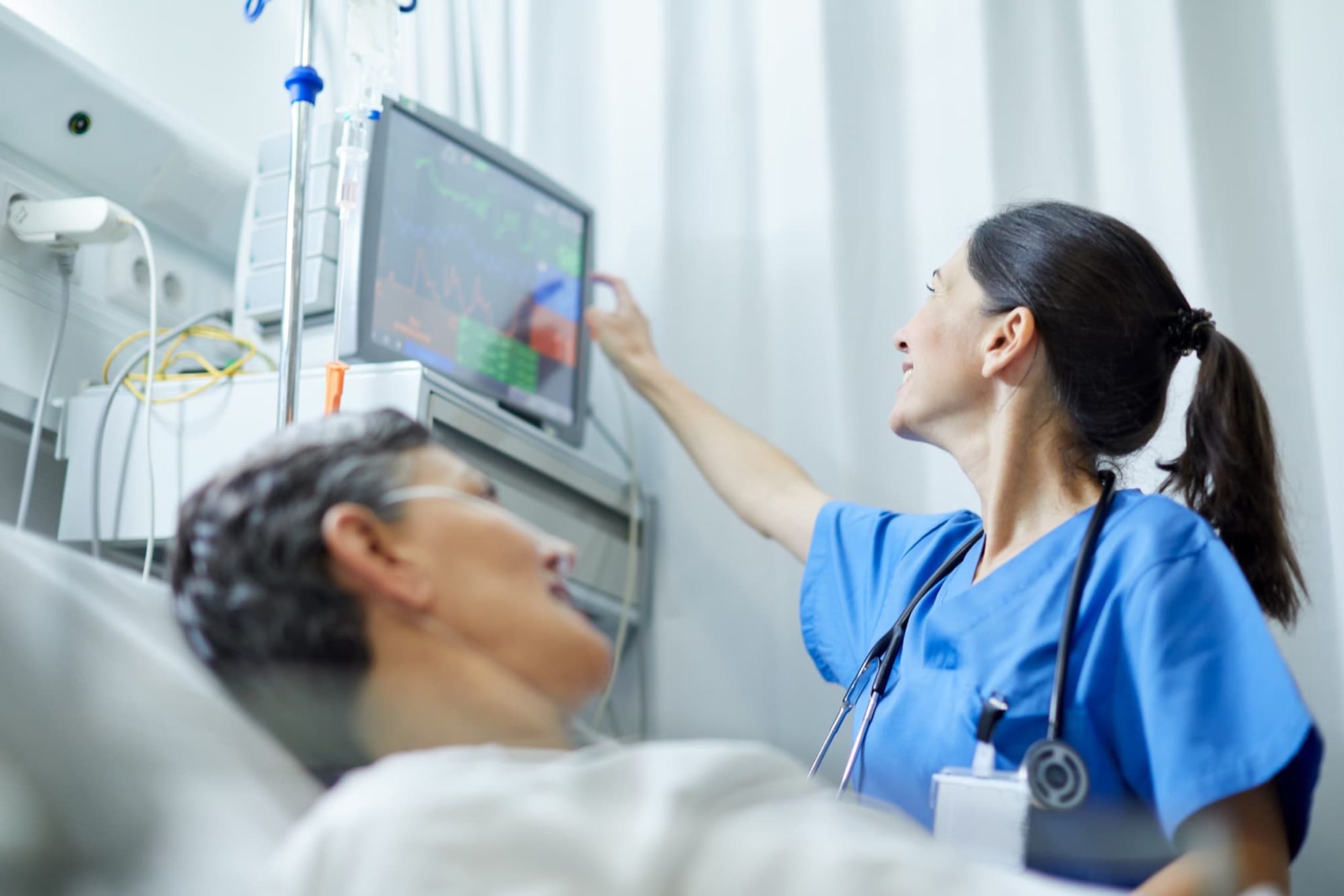 What Can You Do as an Acute Care NP?
ACNPs collaborate with physicians and other members of the healthcare team to treat acutely ill and critically injured patients. Duties can range from prescribing medication to performing intubation. An ACNP can work in various settings with a patient population that includes infants, adults, and the elderly.
Specialized areas for ACNPs include the following:
Adult-Gerontology ACNP (AGACNP)
Certified AGACNPs specialize in treating adult and elderly patients with critical illnesses or conditions. They work in intensive care units, trauma centers, emergency rooms, and urgent care centers. They can also find work in outpatient facilities, rehabilitation centers, nursing homes, and hospice settings.
Pediatric Nurse Practitioner-Acute Care (PNP-AC)
Certified PNP-ACs work with infants, children, and adolescents with acute or life-threatening illness or injuries. They function in pediatric critical care units, emergency rooms, outpatient pediatric facilities, rehabilitation centers, and hospice care.
What to Look for in an Online Acute Care NP Program
Before enrolling in an ACNP program, prospective students should research schools to identify programs that align with their goals.
Pay attention to the following key metrics.
Admission Requirements

Admission requirements ensure you meet applicant criteria. While qualifications vary by school, you will need official transcripts, a bachelor of science in nursing (BSN) or an associate nursing degree from an accredited institution, and acute care clinical nursing experience with an unencumbered RN license.A professional resume and references, an admissions essay, GRE/GMAT test scores, and a minimum GPA of 3.0 are also typically required.

Program Curriculum

The core curriculum helps students choose a school based on course offerings. The curriculum establishes the standards, objectives, and outcomes for nursing students.Quality programs prepare enrollees for future success in their career. Course tracks focus on gaining knowledge of the pathophysiology of complex acute conditions and how to diagnose and manage such illnesses.

Clinical Experience

ACNP programs incorporate supervised, customized clinical experience. The hours, location, and format vary by school. Some online dual programs encourage students to choose their clinical site and help with placement, as needed.

Accreditation

Nursing program accreditation is a crucial factor when searching for online ACNP programs. The Accreditation Commission for Education in Nursing (ACEN) and the Commission on Collegiate Nursing Education are accrediting agencies that ensure nursing programs offer academic quality and comply with state and national standards.

Program Length

An ACNP online program typically takes two years to complete with full-time enrollment. This can vary by school.

School NCLEX Pass Rate

The National Council Licensure Examination (NCLEX) pass rate can indicate a school's success in preparing students for the advanced nursing field too. A first-time NCLEX pass rate of 90% or higher demonstrates a highly valued program. As of the third quarter 2021, the national year-to-date NCLEX pass rate for first-time test-takers is close to 84%.

School Graduation Rate

This metric enables you to assess the quality of the school and its program compared to other institutions. It reveals the percentage of students who graduate in an acceptable time frame.

Online Learning Format and Requirements

Online ACNP formats offer a diverse range of courses and the opportunity for you to choose one that aligns with your goals and career path. Life is busier than ever, and online classwork provides the opportunity for you to continue to work while attending virtually.
Applying to an Online Acute Care NP Program
With an online ACNP program, you can advance your education with a master's degree (or higher) and increased knowledge in a virtual learning environment. Although application processes vary, there are some general steps to apply to this program.
Specific prerequisites for the leading online ACNP programs include:
Professional resume and references
BSN or associate nursing degree from an ACEN-accredited program
An unencumbered state RN license or enhanced Nurse Licensure Compact
NCLEX-RN pass rate of 98-100%
Minimum overall GPA ranging from 2.5-3.0
Immunization verification
Proof of health insurance
Why Is Online Acute Care NP Program Accreditation Important?
Choosing an accredited online ACNP curriculum is beneficial for many reasons.
Accreditation ensures that programs adhere to a common quality standard.
Attending an unaccredited institution can disqualify you from receiving federal financial aid.
Unaccredited undergraduate degrees may not be valid to graduate programs.
A degree from an accredited school can lead to better job prospects.
Accredited schools likely offer more current nursing theory and practice courses.
Employers typically want to confirm the validity of ACNP online programs and prefer nurses from accredited programs.
Paying for Online Acute Care NP Programs
When paying for your education, consider program length, in-state versus out-of-state tuition, and whether you can continue to work while in school.
For online ACNP programs, you can weigh financial assistance options to pay for your nursing degree. This level of education offers financial aid resources for nurses such as:
Loans from the federal government, private funding, or public sources
Federally funded work-study programs that allow you to work part time
Learn More About the Top Online Acute Care NP Programs and Schools
---
What is the ACNPC-Adult Gerontology exam?
Administered by the American Association of Critical-Care Nurses, the ACNPC-AG assesses an applicant's abilities to fulfill the duties of an adult-gerontology acute care nurse practitioner to become board certified. The exam includes 175 multiple-choice questions that gauge the applicant's knowledge in the standard practices of acute care nurse practitioners.
What is accreditation and why is it important?
Accreditation establishes that an educational institution passes the standard review process, ensuring the quality of their educational offerings. Students should select an accredited program as employers and certification standards often require degrees from accredited institutions.
How long does it take to become an acute care nurse practitioner?
Becoming an acute care nurse practitioner takes around 2-3 years. Each program sets their own requirements, but to receive an acute care nurse practitioner certificate online, students typically need approximately 35-50 credits that focus on clinical requirements, nursing core courses, and advanced nurse practices.
What is the difference between an ACNP and FNP?
Differences between family nurse practitioners and ACNPs lie in work setting and type of care. Family nurse practitioners typically provide primary care in doctors' offices, clinics, and other settings, often attending to a patient's health across their lifespan. An ACNP maintains the health of patients who require more immediate care or are in life-threatening conditions. ACNPs often occupy urgent care settings, including emergency rooms and intensive care units.