Do you want to make a living helping people experiencing addiction? The demand for addiction nurses could surpass most similar occupations. According to the U.S. Bureau of Labor Statistics (BLS), positions for substance abuse, behavioral disorder, and mental health counselors could grow by 23% from 2020-2030. During that time, employers will add 41,000 positions every year.
This guide explores what addiction nurses earn and how they can fetch higher earnings.
Average Salary for Addiction Nurses
Addiction nurses make an average salary of $86,000 per year, or $36.63 per hour, according to Payscale data from March 2022. The figures listed below represent average salaries, whereas substance abuse nurses can earn more. Salaries vary by experience, education, credentials, work setting, and geographic area.
Salaries for addiction nurses rank above the national average of $58,260, as reported by BLS. However, other nursing positions earn more, especially those that require a bachelor's degree or higher education. Nurse practitioners, a position that requires a master of science in nursing degree, earn a median annual salary of $120,680, according to the BLS.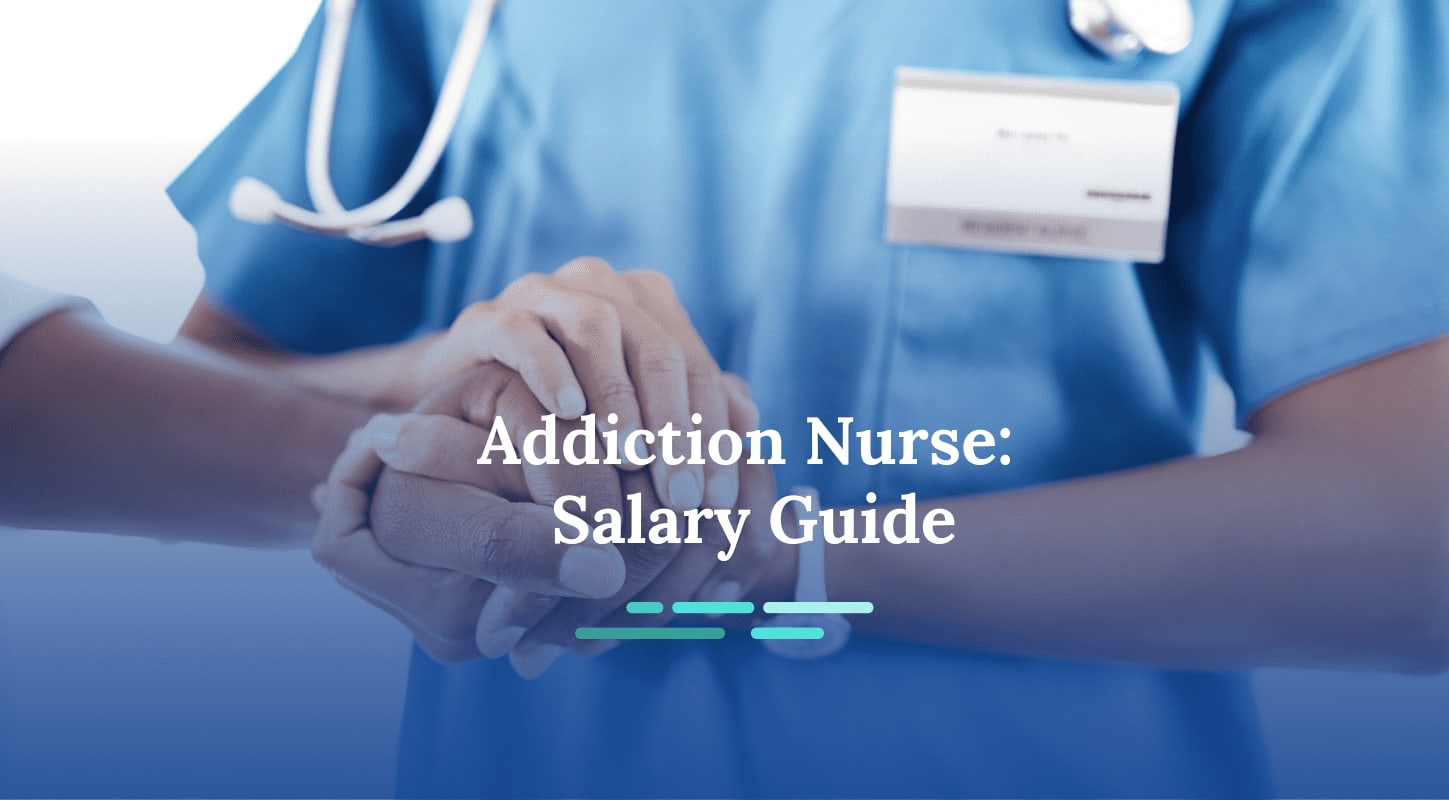 Highest-Paying States for Addiction Nurse
Salaries for addiction nurses, also called substance abuse nurses, correlate to where they live. Addiction nurse salary ranges vary by state and city — much like registered nurses (RNs) who make the most in California ($124,000), Hawaii ($106,530), Oregon ($98,630), District of Columbia ($98,540), and Alaska ($97,230), according to the BLS.
Population size and demand also influence pay, with some regions demanding more RNs than others. The highest concentration of RNs can be found in Rochester, Minnesota; Bloomsburg, Pennsylvania; and Morgantown, West Virginia.
Many regions are experiencing nursing shortages, but the industry lacks specific data regarding demand by region for addiction nurses.
Featured Online RN-to-BSN in Nursing Programs
4 Ways to Increase Pay As an Addiction Nurse
Recent graduates may enter the workforce and make entry-level salariessuch as the lowest 10th percentile for RNs of $59,450 a year. However, the top 90th percentile earns $120,250 a year.
Addiction nurses using the following strategies can increase their earning potential.
1.

Earn Your BSN

Becoming an RN only requires an associate in nursing degree, the minimum requirement to take the NCLEX-RN and earn a license. Pursuing a bachelor of science in nursing degree (BSN), puts RNs in reach of higher salaries and better positions. The education, experience, and connections earned through a BSN degree also give addiction nurses an advantage on the job market and provide the foundational education needed for higher degrees.

2. 

Become a Certified Rehabilitation Registered Nurse (CRRN)

Credentials like the CRRN provide verification of a nurse's skills and knowledge in rehabilitation nursing. Employers may prefer certified nurses and even encourage existing staff to become certified. Certification as a rehabilitation nurse requires two years of work experience as a licensed RN and passing scores on the CRRN exam.

3.

Become a Travel Nurse

Cities around the country are experiencing nursing shortages. These critical-need areas pay substance abuse nurses higher salaries to travel. Companies often provide bonuses to work as a travel nurse and discounts for entertainment, travel, and leisure.

4. 

Switch Nurse Settings

Different work settings have varying compensation rates for RNs. The top three settings that pay RNs the most include non-scheduled air transportation ($112,630), pharmaceutical and medicine manufacturing ($105,270), and merchant wholesalers ($80,260).
Frequently Asked Questions About Addiction Nurse Salaries
---
What career advancement opportunities are available for addiction nurses?
Addiction nurses can advance to administrator and management positions. This can happen with years of experience, a higher degree, and/or credentials, such as the Addictions Nursing Certification Board's Certified Addictions Registered Nurse certification.
Do addiction nurses earn more with a BSN degree?
Substance abuse nurses earn more with a bachelor's degree than high school graduates or associate degree-holders. The BLS reports that workers with a high school diploma earn an average of $712 per week, associate degree-holders make about $836 a week, and bachelor's degree-holders earn a weekly salary of roughly $1,173.
What is the starting salary for addiction nurses?
Addiction nurses start at entry-level positions with base salaries. The lowest 10% of RNs earn about $59,450 a year, while RNs in the 25th percentile make $61,790 a year, according to the BLS.
Are addiction nurses in demand?
Yes. Jobs for RNs could grow by 8% from 2020-2030. During that decade, employers could add roughly 194,500 each year.