Associate Degree in Nursing (ADN) Guide: Opportunities With an ADN
partial online offering
clinical hours required
Explore the nursing field
See if a nursing career fits your goals and temperaments without committing to a 4-year program.
Credit transfer
Credits from an ADN can transfer to a 4-year college to obtain a BSN.
Average Program Length: 2 Years
Average Credits Required: 60-75
Average Earning Potential: $48,500-$73,300
Become an RN
Getting an ADN provides the necessary credentials and prepares students to take the NCLEX-RN.
Skills Learned
Critical thinking, communication, and organization.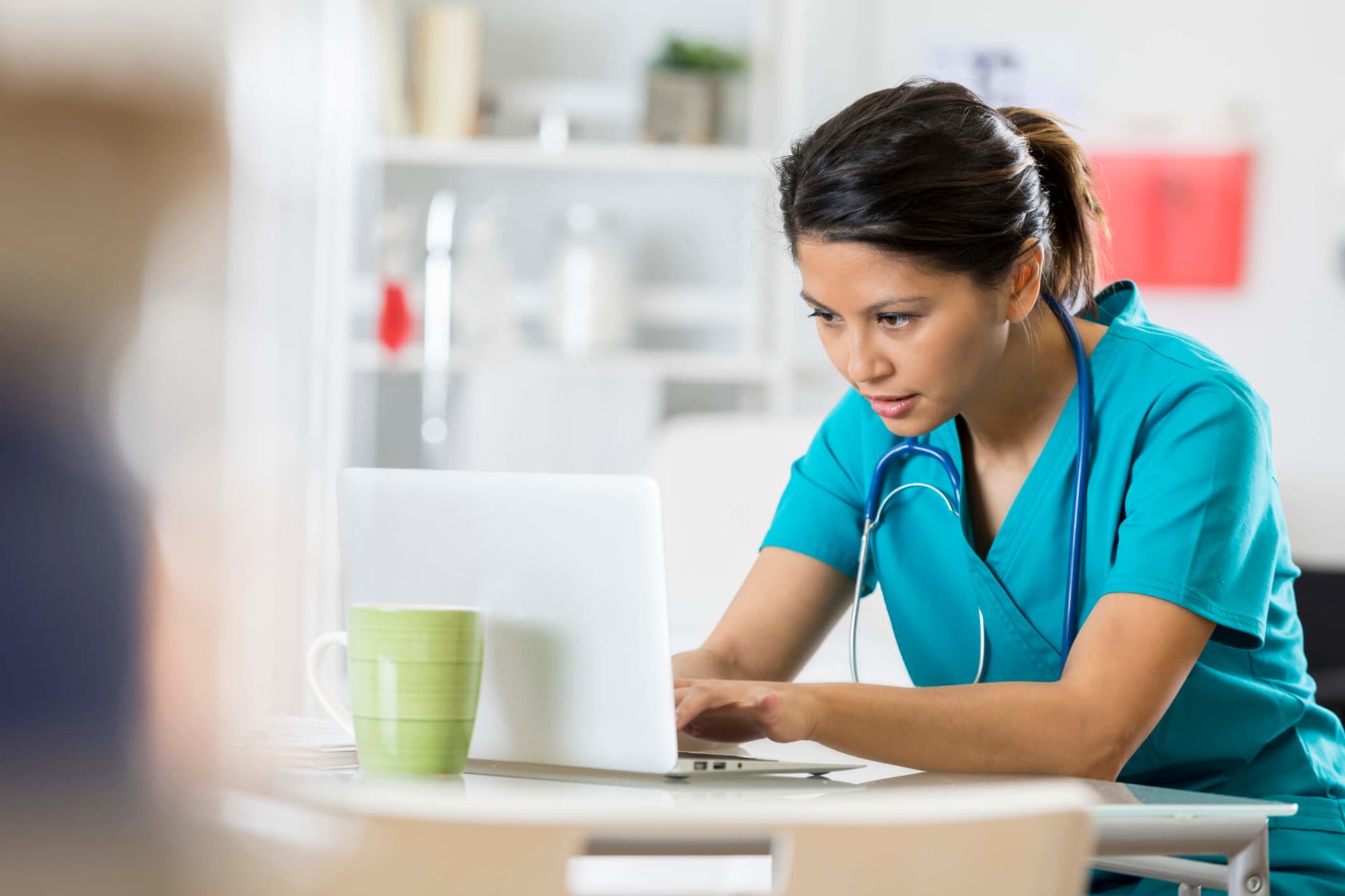 Featured ADN Specialties
An ADN program offers learners one of the fastest paths to becoming an RN. On this page, find admission requirements, earning potential, and much more.
*SOURCE: U.S. Bureau of Labor Statistics, PayScale
Featured Online ADN Programs
How Much Will I Make With an Associate Degree in Nursing?
*SOURCE: PayScale.com
How to Get a Associate Degree in Nursing
Admission Requirements for an ADN Program
Admission requirements for two-year ADN programs vary by school. However, applicants must typically submit:
A high school diploma or GED certificate
Proof of completing high school coursework in math, biology, chemistry, English, world languages, and humanities
A high school GPA of 2.0 or higher
ACT scores (18 in English, 19 in math) and SAT scores (450 in English, 460 in math)
An application and supplemental materials, including a resume, recommendation letters, and a personal essay outlining reasons for pursuing an ADN. Candidates may also need to describe their career goals, along with any applicable training, such as CPR, first aid, and volunteer or work experience
Core Concepts in an ADN Program
ADN programs feature courses in nursing practice, prepare learners for the NCLEX examand develop through both classroom work and clinical experience. ADN students take classes that may include:
Introduction to the nursing profession
Professional issues in nursing
Microbiology and immunology
These competencies help nurses meet patients' needs and employ logical thinking and accurate nursing skills like:
Collaborating with other healthcare professionals
Demonstrating management skills
Educating patients and staff
Employing personal characteristics
Engaging in professional development
Ensuring quality and safe care
Establishing interpersonal relationships with patients and nursing staff
Practicing ethically and legally
Clinical and Lab Components in an ADN Program
In addition to coursework, the ADN curriculum includes simulation labs and on-site clinical rotations.
Simulation labs allow students to practice skills in a controlled, safe environment.
In clinical rotations, students learn to care for patients under the direction of a staff nurse and assigned clinical instructor, Students learn, under supervision, to care for a small number of patients.
Accredited ADN programs typically include 500 hours of clinical experiences and meet state licensure and national accreditation requirements.
What to Expect From an Online ADN Program
Distance learners receive the same training as their on-campus counterparts. While coursework is delivered online, clinical hours must be completed in person at a healthcare facility near the student's home. However, during the current pandemic, some programs may offer virtual clinical experiences.
Online courses fall into two categories: asynchronous, which includes prerecorded lectures students can access on their own schedules, and synchronous, which simulates the traditional classroom experience through a live feed or similar format. Remote learners need a reliable internet connection and a computer. Programs offer tech support, along with services like advising, counseling, and tutoring, online or by phone.
Should I Get an ADN or BSN?
An associate degree in nursing and a bachelor's degree in nursing both prepare graduates to take the NCLEX-RN. However, due to the more extensive education and practice requirements involved in bachelor's programs, graduates with a BSN typically enjoy more responsibility and higher pay than ADN-holders.
While a BSN typically takes longer to complete than an ADN, there are many RN-to-BSN bridge programs that allow bachelor's students to expedite graduation.
Advantages to an ADN
Provides necessary credential to become an RN
Allows candidates to explore the field without committing to a four-year program
Credits can potentially transfer to another four-year degree
Disadvantages to an ADN
There are better options for individuals committed to a nursing career
Less competitive in the job market
Does not provide the necessary training to pursue a speciality